YOUNG ENTREPRENEURS ACADEMY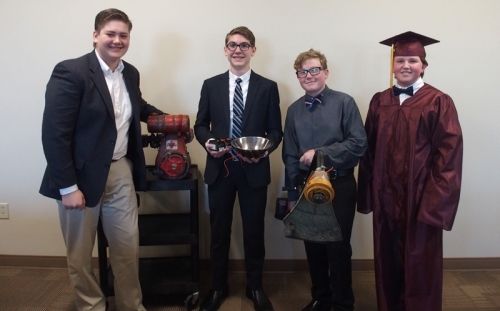 Hudson Area Young Entrepreneurs Academy (YEA!)
The Hudson Area Chamber of Commerce and Tourism Bureau is pleased to offer another year of the Young Entrepreneurs Academy (YEA!) to the area to transform middle and high school students into business owners as part of a weekly entrepreneurship education class.

YEA! is a cutting-edge program that takes students ages 11 to 18 through the process of starting and launching a real business or social movement over the course of an academic year. By the end of the class, students own and operate fully-formed and functioning businesses, which may be carried on after their graduation from the program.

Partnering with the Hudson Area Chamber of Commerce and Tourism Bureau are the Hudson YMCA, Hudson School District, the University of Wisconsin–River Falls, and Xcel Energy.

YEA! classes will be run by the Hudson Area Chamber of Commerce and Tourism Bureau and hosted at the Hudson YMCA Teen Center from October 2018 to April 2019. Classes will be held on Monday from 5:30 p.m. - 8:00 p.m. Tuition for the 20 week program is $495. Enrollment is open to all students entering grades 6-12 in the fall.

For more information contact us at (715) 386-8411.

About the Young Entrepreneurs Academy
The Young Entrepreneurs Academy (YEA!) teaches middle and high school go-getters how to start and run their own, REAL businesses.

Founded in 2004 at the University of Rochester with support from the Kauffman Foundation, YEA! has helped more than 4,000 students nationwide launch over 3,000 businesses and social movements. The Hudson Area Chamber of Commerce & Tourism Bureau was excited to introduce YEA! to our community with its inaugural class during the 2016-17 academic year. We are now accepting applications for the 2018-19 academic year.

YEA! guides students through the process of fulfilling their very own American dream. By bridging the business and educational communities students are taught by trained instructors, and are exposed to guest lecturers, successful entrepreneurs and mentors. Over the course of the program, students:
Brainstorm business ideas

Write a business plan

Interact with business professionals

Attend field trips for a behind-the-scenes look at local businesses

Pitch their business plan to local investors for startup funding and the opportunity to advance to the Saunders Scholars Competition in New York

Legally register their businesses

Launch and run their own business or social movement

Graduate from the program with lifelong leadership and business skills
YEA! Students Featured in Hudson Star-Observer
The Hudson Star-Observer visited the students participating in the inaugural class of the Hudson chapter of the Young Entrepreneurs Academy. You can read the article online. The Hudson Star-Observer also ran a story that provided a recap of the accomplishments of our first class of students following their graduation.