Hudson's Champion for Economic Prosperity
A little about us...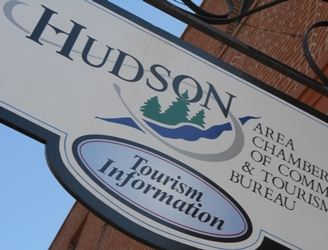 Mission: The Hudson Area Chamber of Commerce & Tourism Bureau is the voice and representative of the Hudson Area Business Community and Tourism efforts.

The Hudson Area Chamber of Commerce & Tourism Bureau - a not for profit business membership organization (501 (c) (6)) with over 400 members - is the advocate of business and the unified voice of its members in the communities of Hudson, North Hudson, River Falls, Somerset, New Richmond, Lakeland, Afton, Stillwater, Woodbury and the St. Croix Valley as well as the Twin Cities metro area.
Member driven and supported, the Chamber's main focus is promoting the growth of the River Valley by:
• Assisting existing businesses with expansion and growth
• Representing business on economic and government issues
• Recruiting new businesses and investment to the area
• Working in partnership with other businesses, government and community groups to promote Hudson area as a good place to live, work, visit and do business
We have been building a better business community since 1953. Working under our mission and with the Board of Directors, the Chamber provides networking and marketing opportunities, educational programming, leadership development, and several committees and task forces for members to get involved in.
Once your business is a member of the Hudson Area Chamber of Commerce & Tourism Bureau, you and all of your employees are members as well. As a member, you are entitled to the full range of Chamber resources, all designed to help you grow your business.